feauture for blogcritics
Spain 1 - 0 Germany
42 years of hurt: Spain's reputation as perennial underachievers can finally be put to bed, after they ended over four decades of failure with a fantastic victory in the Euro 2008 final against Germany. Despite missing tournament top scorer David Villa through injury, Spain's majestic midfielders barely allowed Germany a sniff of the ball and carved out a fully deserved victory.
Fernando Torres, the £25m Liverpool striker, was the match winner with a terrific 33rd minute goal. A long slide-rule through ball by Xavi, who this morning was named Player of the Tournament by a group of UEFA experts, set Torres off on a chase with German defender Philipp Lahm, and goalkeeper Lehmann coming off his line.
Despite starting behind him, Torres' speed and strength got him by Lahm just before Lehmann arrived, and he deftly flicked the ball over the onrushing goalie and into the far corner of the net. It was just reward for Torres, who had hit the post earlier with a header, and whose strong running all tournament had facilitated the goals with which team-mate Villa stole the limelight. There were further chances for Spain to win the game, with a Sergio Ramos header being well parried by Lehmann, and a late run by Marcos Senna almost resulting in a wonderful clincher had he been able to stretch his foot a further few inches. Germany were unable to create many clear chances, and their increasing frustration threatened to boil over at times as desperate players flew into reckless tackles.
But nobody could argue with the result, or that Spain weren't deserving winners overall: the only team in the last-4 to have won all their group games, only Italy held the Spanish to a draw. Otherwise, they were superb.
Torres' goal was a fitting climax to a wonderful tournament. It had everything a football fan could ask for - great goals, drama, surprises, great players - and very little of what we don't want to see - diving and injury simulation, red cards or bad injuries, bad refereeing. Here's my round-up:
Goals of the Tournament: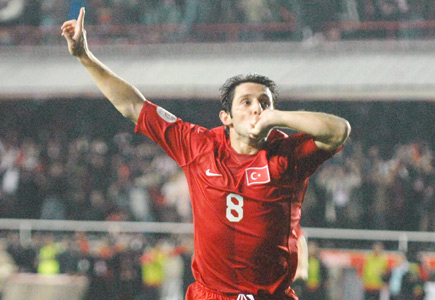 3. Sneijder (Netherlands) v. Italy (group stage, r1) - his clinching goal against France was a beauty too, but this was better: starting with Giovanni van Bronckhorst clearing an Italian chance off his own goal-line, the counter-attack moved at such pace, and was so expertly executed with perfectly sprayed passes, it was the first indication of the awesome ability of the new Dutch team. Italy didn't know what had hit them. This goal shook up the tournament.
2. Torres (Spain) v. Germany (final) - Xavi's pass through was inch-perfect, and Torres' sheer pace and strength to get in front of Lahm and to the ball, just as Lehmann arrived, was breathtaking to watch. His carefully flicked finish under immense pressure was just superb.
1. Nihat (Turkey) v. Czech Republic (group stage, r3) (above) - Just 15 minutes previously, the Czechs had been 2-0 up on Turkey, cruising into the Last-8. Then Arda Turan pulled one back, and Czech goalie Petr Cech, roundly known to be one of the best keepers in the game, fumbled a cross ball to Nihat's feet to bring the tie level. But this? Into injury-time, a ball is slipped through to Nihat in space, and from 20 yards out he thumps a high, dipping, curling ball over Cech and in-off the crossbar to seal a quite incredible comeback. The way Nihat struck the ball was so ambitious, and so risky - he could try that same shot 100 times and 90 of them would fly well over the bar and into the stand - that it seems like a silly thing to attempt in injury-time to clinch qualification. But he went for it, and pulled it off brilliantly.
Most Dramatic Moments:

3. Buffon saving Mutu's penalty - After being torn apart by the Dutch, the Italians are in danger of elimination if they lose to Romania. Adrian Mutu gives the Romanians the lead, before Panucci equalises for the world champions. But then Italy are harshly punished when the referee gives Romania a very soft penalty. Mutu, who plays his football in Italy with Fiorentina, steps up to take the kick knowing it's likely to eliminate his country of residence from the tournament. He hits is straight down the middle; Gigi Buffon has dived to his left, but sticks out his right hand as he falls; the ball hits Buffon's right hand, then his right leg, and balloons over the bar; Italy breathe again.
2. Turkey's comeback to beat Czech Republic - As described above. Nihat's injury-time winner was my favourite goal of the entire competition.
1. Turkey beating Croatia in the QF - Just ridiculous. 118 minutes of boring football. Eventually, some excitement: Rustu abandons his goal-line but Luka Modric gets there first to cross into the six-yard box, where Ivan Klasnic is waiting to head in, surely, the winning goal. Croatia go wild: the manager Slaven Bilic runs onto the pitch in celebration; they've done it! But no - never write off the Turks, especially after that Czech match. With their first shot on target all night, in the 122nd minute of the game - possibly the latest goal ever scored? - Semih Senturk (above) lashes the ball into the top corner. Incredible. The Turkish fans who were disconsolate can hardly believe their eyes; the Croatian fans who were celebrating can hardly believe their eyes. It's going to go to penalties, but we all know what's going to happen. The Croatians cannot recover from such a shock. Turkey win the shoot-out.
Surprises of the Tournament:

3. France - how dreadful were France? They had probably the best squad in the competition, on paper, and certainly the best squad depth - as I illustrated in the tournament preview, there were so many great French players who didn't even make the squad who most other nations would have loved to have at their disposal. But they were terrible. Their highlight was a 0-0 draw with Romania in possibly the worst game of the tournament. They scored just one goal - Thierry Henry in the 4-1 crumbling to the Netherlands.
2. Turkey - the biggest over-achievers, not only did the Turks escape from a group they were tipped to finish fourth in, they also made it to the semi-finals and outplayed eventual finalists Germany. Granted, they benefited from a few giant dollops of luck - if Petr Cech had just caught that cross, as he would do 99% of the time, Turkey would have gone straight home - but they also suffered plenty of bad luck against them. They only had 3 fit outfield subs for the Germany game, missing key players like Nihat, Arda, Tuncay, and Emre.

1. The Netherlands (above) - Going into the tournament, the Dutch were being regularly criticised by their own fans and journalists. Everyone knew they had good players, but nobody expected them to trounce both Italy and France so comprehensively. They instantly became every neutral's favourites. OK, so maybe it was just me that under-estimated them so much. I won't make that mistake again.
Top 3 Refereeing Controversies:
3. Austria's last-minute penalty v. Poland
- English ref Howard Webb gave this decision which initially appeared to be a mystery - an Austrian was jostled to the ground as a free-kick was flighted into the box. The result? An equalising goal from 38-year old Ivica Vastic, effectively eliminating Poland from the competition. Was he right? It depends how rigidly you believe rules should be stuck to. By the letter of the law it was a foul and those fouls should be punished. But by being so strict, referees would have to give several penalties in every game, and that would fundamentally change the game of football. Indeed, Webb himself would have had to have given several penalties already in that game for the Polish defence to realise that they should be careful. So in my opinion he was not right - where were the other penalties in that game Mr Webb, or in the other matches you refereed? Instead, this penalty was like a gift given to the hosts, like a bottle of wine bought in thanks for a dinner party.
2. Van Nistelrooy's goal v. Italy - Ruud looked a good yard offside when he turned a shot towards goal, but it was given because Italy defender Panucci was off the pitch behind the goal. Apparently, because he hadn't asked the referee for permission to leave the pitch, he was still playing the striker onside. Again we have a situation where the strict interpretation of the law may be technically correct but gives an absurd result. The Italians felt aggrieved at the goal being given and I think they had a right to.
1. Kolodin's red card reprieve v. Netherlands (above) - With just minutes left, Slovakian referee Lubos Michel appeared to give Russian centre-back Denis Kolodin a second yellow card and then a red, but before Kolodin left the pitch, Michel ran over to speak to his assistant. The assistant seemingly told Michel that the ball had gone out of play, and therefore Kolodin's foul didn't count because play should have been stopped. Michel waved his hands to indicate that he had changed his mind about the red card, play carried on with Kolodin on the park, and Russia went on to win 3-1.
Television replays showed that the ball had not gone out of play, but also that Kolodin had barely made contact with the 'foul'. So it seems the assistant got it wrong, but that justice was done, because the referee had also got his first decision wrong, and so two wrongs made a right. But referees just aren't supposed to change their mind, because it gives players encouragement to harangue them about decisions they disagree with. So this was either a very brave decision, or a very bad example to set. What do you think?
Team of the Tournament:

GK. Edwin Van der Sar (Netherlands) - made more great saves than any other, and commanded his box. Honourable Mentions: Buffon (Italy), Casillas (Spain).

RB. Hamit Altintop (Turkey) - must have covered every blade of grass on every pitch he played on. HM: Bosingwa (Portugal), Bhoularouz (Netherlands)

CB. Carlos Puyol (Spain) - often criticised for his positioning, but the all-action defender never gives his opponents a second's peace. Team only lost 3 goals in 6 games.
CB. Giorgio Chiellini (Italy) - an absolute tank after he came in to replace Materazzi. HM: Pepe (Portugal), Gokhan (Turkey), Marchena (Spain).
LB. Yuri Zhirkov (Russia) - bombed up and down the left-flank with endless energy. A left-back and left-winger all-in-one. Brilliant. HM: van Bronckhorst (Netherlands), Lahm (Germany)
RW. Arda Turan (Turkey) - the new star of Turkish football, a constant danger, scored a couple too.
CM. Wesley Sneijder (Netherlands) - On course to be player of the tournament after the first two games, when he was a stand-out in Holland's magnificent group victories against Italy and France. HM: Fabregas, Xavi, Iniesta (all Spain), Modric (Croatia), Deco (Portugal).
CM. Andrei Arshavin (Russia) - Missed the first two games due to suspension, but was so good on returning against Sweden and particularly the Netherlands that he instantly became Europe's hottest property. Super-rich teams like Chelsea, Inter Milan and Barcelona are now set to battle for his £20m signature. Disappointing in the semi-final against Spain.
CM. Marcos Senna (Spain) - The so-called 'Makelele role' should be renamed the 'Senna role' now. The Brazilian midfielder intercepted everything and was the main reason creative players like Cassano, Arshavin, and Ballack were quiet against the Spanish.
LW. Lukas Podolski (Germany) - Germany's best player. Scored three goals and assisted a few too from the left flank.
ST. David Villa (Spain) - who else but the top scorer? HM: Pavlyuchenko (Russia), Nihat, Semih Senturk (both Turkey), Torres (Spain).

The end of a major International football tournament, like one minute past Christmas midnight, is a very sad time for me: because it's the longest possible time until the next one. You mean we have to wait two whole years for the next World Cup? I don't know how I'll cope. But if it's as good as Euro 2008, it'll be worth the wait.